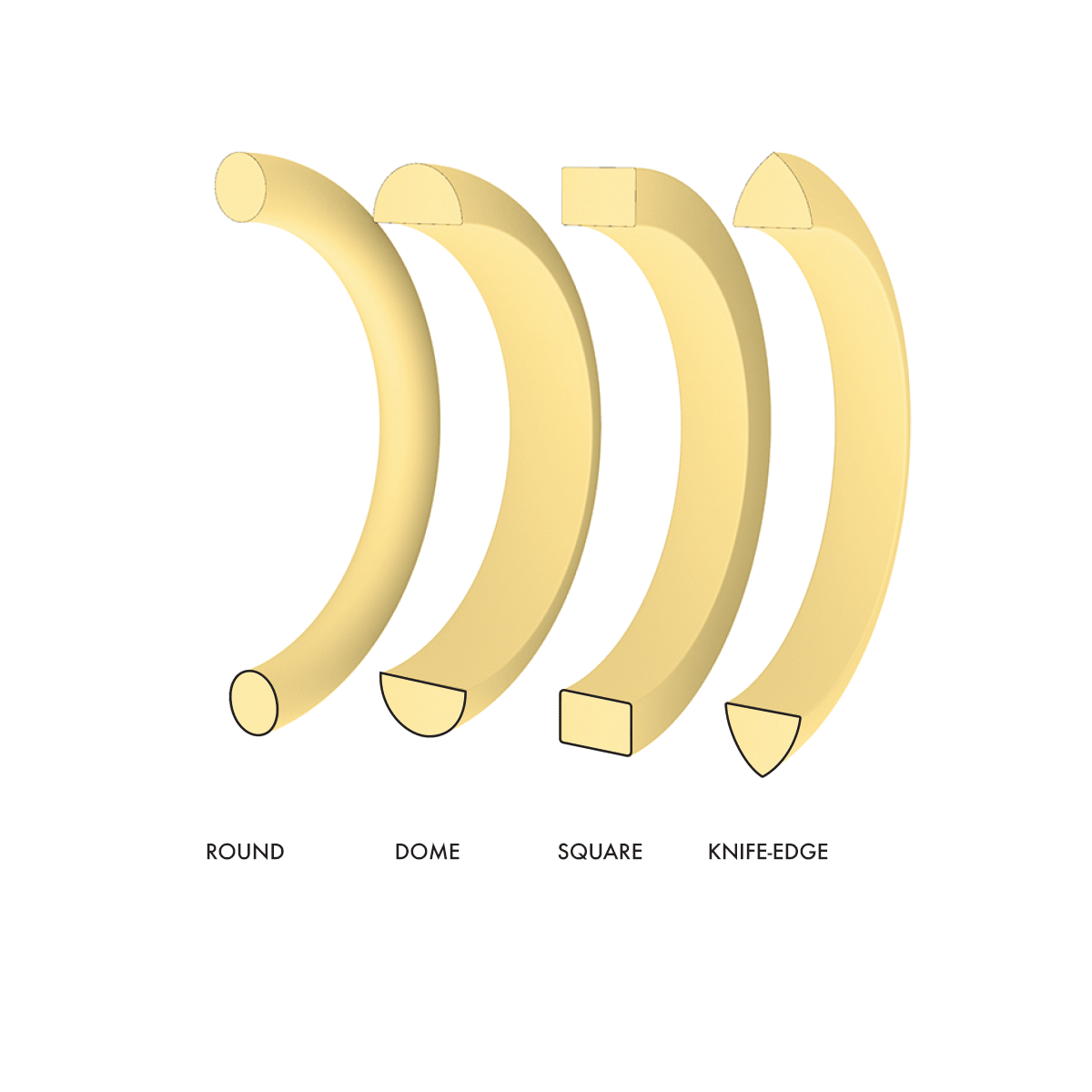 Finding the best fitting ring is not just about
measuring your accurate size
but also involves choosing the right band shape that will suit you in terms of function and style. And in the
anatomy of a ring
, the shank is the largest part that makes the most contact with your finger affecting how your ring feels just as much as it looks. 
The base shapes found in ATTIC's collection are round, domed, square, and knife-edge. These refer to the shape of the ring's cross-section and each has its own features to consider. 
Round

Round shanks, like our robust
Ring No. 3
creates a simple but graphic look. Because its cross-section is perfectly round, however, it's restricted to being as thick as it is wide. For those who prefer a light-feeling fit, this shape is ideal for what little contact the inside surface makes with your finger. The roundness of the metal's surface is forgiving to slight scratches and keeps its polish over time.   
Domed

Domed shanks are the quintessential ring band shape for good reason. Their curved outer surface perfectly suits every width (see our
Dome Ring in

3mm
 or
7mm
) and offers a classic look that's flattering on any finger. When going with a wider band, consider rings with a
Comfort Fit
- a gently domed surface on the inside. Similar to the effect of the round shank, this shape helps to reduce friction and lightens the enclosed feeling of wider bands.  
Rectangular

Square or rectangular ring shanks achieve a clean geometric look and provide more surface area for details like gemstones or textured finishes, while its flat edge pairs nicely with other rings. Whether it's the mirror finish of the ultra-wide
Cigar Ring
or a touch of detail in the
Diamond Slice
ring, these square or rectangular shapes have just the right angle to highlight any detail.   
Knife-edge

Perhaps the ring band shape with the most character is the knife edge. While it sounds a little intimidating, it actually achieves a very dainty and delicate look. Because the outer surface of this style tapers to a point, it creates the illusion of an ultra-narrow band. The thin edge of metal isn't sharp as its name suggests, but it provides just enough surface for fine detail like our
Aline Ring with Milgrain
.